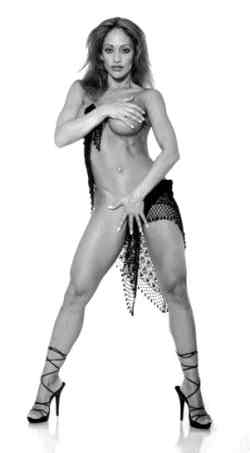 To most of you out there, your first thought will be, "how do my feet affect my bodybuilding capability?" Did you know that misalignment of the feet e.g pronation (dropped arches) or supination (over high arches) can cause problems such as shin splint, heal pain, calf pain, hip pain, lower back pain, groin pain, even neck pain.
The picture left is placed thus for medical reasons only! (yeah right). Just look at the state of those shoes? What IS the world coming to? The poor girls feet, wish they were on my shoulders! Y'know, a foot massage would do the trick.
Yeah right!
You see, the feet are our foundations, much like the foundations of a house, when they are out of alignment, the whole lot goes!! Basically, the problem comes about by a faulty relationship between the bones and muscles of the foot.

The way to put your feet "in order" and correct the function of the body, is by devices worn in the shoes called orthotics.

Now many of you will have seen these advertised in shops, chemists or the Sunday papers. This is not the way to go. Your feet are so individual that to do this is like buying glasses just because they fit your ears! Orthotics must be fitted by a qualified practitioner, which involves taking a mould of your feet and assessing them as individual. They are expensive, but the right orthotics will last for life.

How Do They Work?
As your foot sits comfortably on the orthotics, it is gently and consistently directed to the optimum position, allowing the foot to function correctly when running, walking, standing or even lifting weights. Heres an example of how they directly affect bodybuilders.
Case 1
A bodybuilder came to me with a lower back pain, which I duly "fixed" with my osteopathic skills. However, 2 weeks later the pain had returned. I looked closer for a functional cause and I found severe foot pronation. He said he had found running difficult so stayed of the running machine for his C.V. Running made his back worse and his calves hurt, I prescribed orthotics, because as well as his other pains, his calves were smaller than Mick Hart's spelling capacity. (Ed's Note: Ow ye, fcuk u two!)

Six months after the orthotics were fitted, the calves have sprung out like Dorians, the back pain has gone, and now he worships orthotics as a religion! You see, his calves had been constantly overworking to hold his feet where they should have been, and as we all know, overwork a muscle and it won't grow!!

Being prescribed, orthotics can be the best investment you can make in your overall musculoskeletal well-being.
Where do I get them prescribed?
Be careful, some can be very expensive and only last 2 years. The lab we use make them to last for life.
If you live near Surrey or London we prescribe them at our clinic phone me Les Bailey on 0208 669 3818, or for your nearest prescriber, phone orthotic express laboratory on 01604 755 551.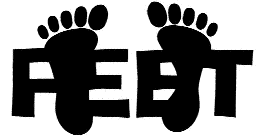 Misalignment can result in a number of problems commonly flat feet, over pronation, persistant ankle sprains, bunions, corns, calluses... even symptoms that would not normally associate with feet such as stress and pain in the back, neck, hips and knees!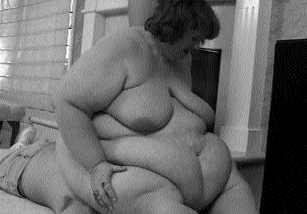 Ed's FOOT NOTE:
This poor girl has a few problems with her feet - she cannot fucking see 'em! But it is nice to see that she is getting on fine with her chirope, chiropa, chire, er foot doctor! Trouble is, the relationship is SO good, he cannot seem to get her out of his head - LITERALLY!
Its nice when people get on - even nicer when they get off!