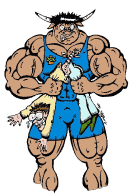 Wait.....
before you continue, take a moment to subscribe to Mick Harts superb FREE No Bull bodybuilding Ezine.
And recieve bodybuilding and steroid articles, interviews, cycles, stacks, cartoons, humor, stories, news and more, direct from Mick Hart's "No Bull" Team.
PLUS.... we will give you a FREE digital copy (never been seen before) of a past issue of the No Bull Magazine.
Sign up today!!